The 2nd edition of the international festival DIGITAL MARRAKECH is taking place from 9 until 11 December 2011 in Marrakech city, especially in its imperial part which is the old medina. 
A RIAD EL FENN 
Derb Moullay Abdullah Ben Hezzian 
Bab El Ksour 
Medina Marrakech , Maroc
Dates: from 09 until 11 December 2011 
————————————————————————— 
The opening Night will be in the 9th of december starting: 18h30, in RIAD EL FENN
To consult the complete Event program (french version Only)PDF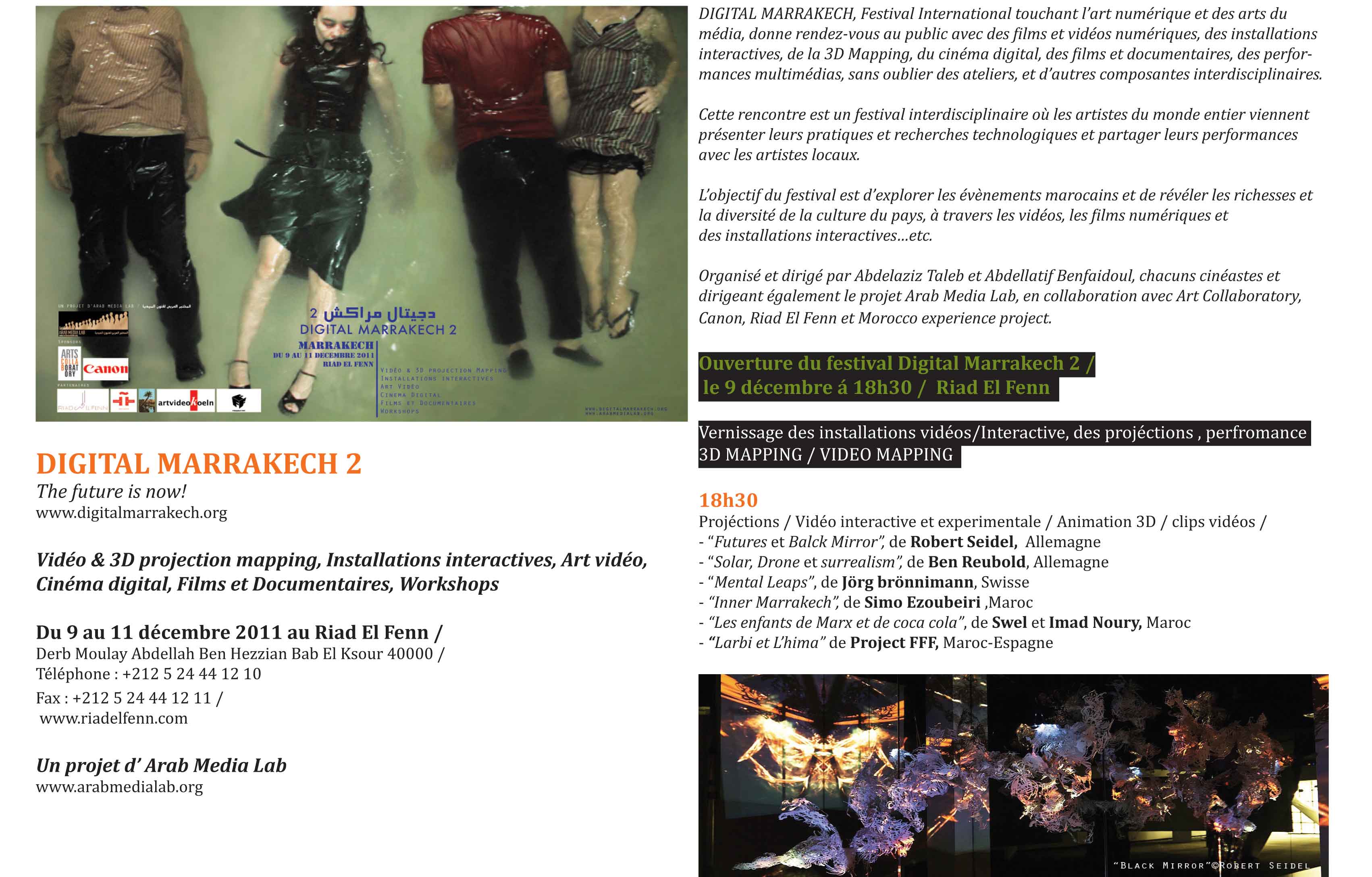 This annual Event of digital and media arts presents diverse trends and practices in the fields of digital film & video, multimedia performances, Video installations, 3D projection mapping, digital cinema, films and documentaries, workshops, interdisciplinary and other components. 
This meeting is an interdisciplinary festival where artists from all over the world present the latest practices, research, technologies and showcase important achievements in the development of media arts practices. The aim of the festival is to explore the Moroccan events and reveal the richness and diversity of the country's culture through videos, digital films and moving images.
The participanting Artists in DIGITAL MARRAKECH 2:
* Morocco: 
Swel& Imad Noury, Ahmed Bouaani, Mohamed Ezoubeiri, Michelle Medina, Abdelaziz Taleb, Abdellatif Benfaidoul…
* Internationals: 
– Robert Sedeil, Agricola de cologne, sandeep Mehta, ben Reubold, Dirk Rauscher ( Germany ) 
– Zineb Sedira ( Algeria ) 
– Laila Hotait, Mariam Agha ( Lebanon ) 
– Alae Younes ( Jordan ) 
– Jorg Bronnimann (Switzerland ) 
– Oliver Laxe (Spain ) 
– Project FFF ( Morocco- Spain) 
– Jean Michel Verbeeck ( Belgium ) 
– Alex Fischer & Ellis Bahl / Space vs Earth( USA) 
– Sebastian Diaz Morales ( Argentina)